DO POP-UP BLOCKERS STOP THE PLAYER FROM PLAYING?
Yes, pop-up blocker software will prevent a player from opening. Some examples of pop-up blockers might include browser toolbars from Google, Yahoo, MSN, and many others. There are also software packages that will block pop-ups and inhibit player start up. Examples of this are programs such as Zone Alarm, Norton Internet Security, as well as some of your Internet providers such as AOL, Juno, etc.
Review your computer for toolbar pop-up blocker features by following these steps:
Open Internet Explorer, click on View, and go to Toolbars at the top of the list. Review the toolbar drop down options, and the following should be listed:
Standard Buttons
Address Bar
Links
Lock the Toolbars
Customize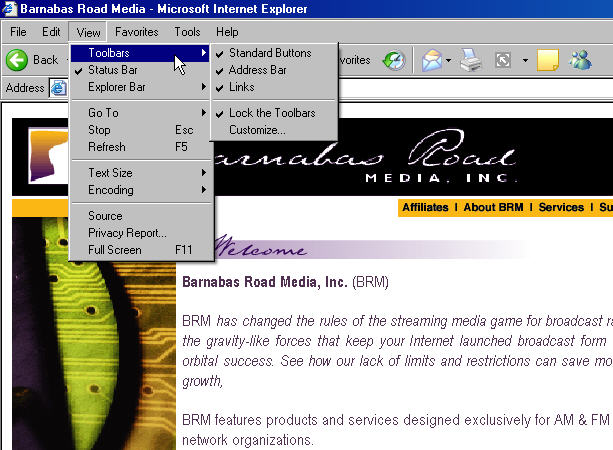 Should you have any item different from what is on this list, it could be a toolbar with a pop-up blocker. Click on the toolbar to investigate its options in order to find out how to disable the pop-up blocker, or to add your favorite stations to the "allowed" pop-up list.